April 2010
Monthly Archive
Friday 09 Apr 2010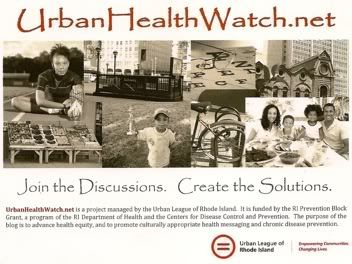 UrbanHealthWatch.net is a blog managed by the Urban League of RI and funded by a Preventive Health and Health Services partnership between the RI Department of Health and the CDC. For more information, email urbanhealthri@gmail.com.
PROVIDENCE, RI - As part of the month-long health-related activities and events held annually in April, producers of the health blog, UrbanHealthWatch.net, will hold a community film event and discussion group as well as host short movies on their website. Also being proposed and implemented on the blog is the use of "Health Equity Awareness Month" to describe the month's activities – in the place of the traditionally used "Minority Health Awareness" title.
Urban Health Watch is a blog cofounded in the summer of 2009 by Michelle Wilson, Director of Community Services of the Urban League of Rhode Island and the site's editor, Reza C. Clifton. The purpose of the project is to address several objectives, including to bring health education into the community, deliver culturally appropriate messages on how to prevent and manage chronic diseases, and to translate medical research about health promotion and disease prevention into actionable steps people can use everyday in life. The blog is funded through a Preventive Health and Health Services Block Grant offered through the RI Department of Health (HEALTH) and the Centers for Disease Control and Prevention (CDC).
The idea to show and post films in April is based, in part, on recognition of those in the community, even those with regular health providers, who may prefer or better retain information through visual learning. It is also in response to a successful campaign by HEALTH in 2009 to get members of the community viewing and discussing the health documentary, "Unnatural Causes." The film sparked dialogue and a better understanding among viewers of important topics like cultural competence, social determinants of health, and why health disparities matter. One of the action steps many took away from the film was the need for more action to advance health equity, a phrase that denotes the types of practices and policy-changes required to truly address "minority health."
The community-based movie event will happen on Saturday, April 10, at "Live Empowered! Diabetes Awareness Day," an event scheduled from 10 am – 3 pm at the Urban League of RI. Community members who come for the film will be encouraged to pursue screenings and consultations on-site from the experts who are part of the Diabetes Awareness Event. Those who attend for diabetes tests and information are encouraged to use the movie to learn additional strategies about staying healthy and to hear from another network of experts and providers.
***
For more information about the April 10 movie event and Urban Health Watch, visit www.UrbanHealthWatch.net, email urbanheatlthri@gmail.com, or call 401-497-5246. For more on the Live Empowered Diabetes Awareness event, contact Albert Whitaker, Associate Director Community Initiatives, American Diabetes Association, 617-482-4580 ext. 3469 or by email at awhitaker@diabetes.org.
***
Can't wait for the RezaRitesRi newsletter? Have info to share NOW?



Join the RezaRites Chirp,
a Yahoo group for friends and readers.
0 comments reza | Leaders/Organizations/Businesses in RI, Art, Visual, Human/Civil Rights
Friday 09 Apr 2010

You might like the video, but you'll love them live! Catch me, Reza Rites, and the ladies of Isis Storm on Saturday, April 30 and Sunday, May 16.
PROVIDENCE, RI – Summer may have come in April earlier this week, but a Storm is rolling in. In fact, you better be ready for TWO big celebrations, because the thunder can't help but be heard. Save the following dates, and be ready to join us:
Isis Storm Presents 'On the Rise'…
And Celebrating National Poetry Month
Saturday, April 30, 2010
8:00 PM
Brooklyn Coffee Tea House
209 Douglas Avenue
Providence, RI 02908
***
We Run This!
Women & Mothers in Hip Hop
Sunday, May 16, 2010, 8:00 PM
To get your regular forecast, visit www.IsisStorm.com, or email beginthestorm@gmail.com for more information. Female poets, musicians, and hip hop artists, community organizations, and women in the color are encouraged to inquire.
0 comments reza | Women in RI, Leaders/Organizations/Businesses in RI, Art, Poetry, Music